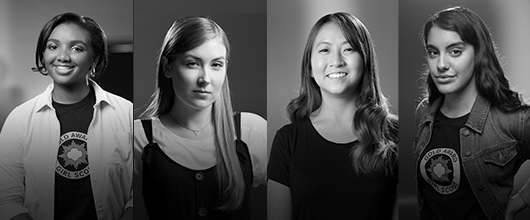 Gold Award Girl Scouts
Issues of the world, meet your match. 

Gold Award Girl Scouts are the dreamers and the doers who take "make the world a better place" to the next level.
The Girl Scout Gold Award is the the mark of the truly remarkable—proof that not only can she make a difference, but that she already has.
Seniors and Ambassadors who earn the Gold Award tackle issues that are dear to them and drive lasting change in their communities and beyond. Think of the Gold Award as a key that can open doors to scholarships, preferred admission tracks for college, and amazing career opportunities.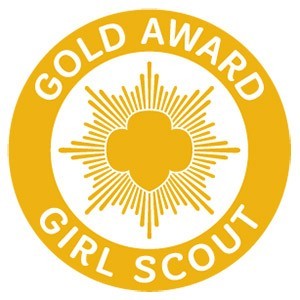 You can pursue your Girl Scout Gold Award if:
 

You're in high school (ninth through twelfth grade, or equivalent) 
 

You're registered as a Girl Scout Senior or Girl Scout Ambassador
 

You have completed two Senior or Ambassador Journeys OR earned the Girl Scout Silver Award and completed a Journey
 
Girl Scout Gold Award Steps


Investigate your issue thoroughly
 

Get help and build your team
 


Present your plan and gather feedback 
 


Any girl working on her Gold Award must attend a Silver and Gold Award Workshop. Please view the training calendar for workshop dates.  
If you have previously attended this workshop for your Silver Award you do not have to retake the class. 
Getting Started
The first step towards earning your Gold Award is submitting your Project Proposal Online. Girls must submit their proposal using the Go Gold Online Submission. 
Create Your Go Gold Online Submission (Proposal)
Adult Guide: Girl Scout Gold Award
As a volunteer, you'll encourage Girl Scout Seniors and Ambassadors working toward their Girl Scout Gold Award. Use this Adult Guide to help you support girls as they develop into tomorrow's leaders.
Download (PDF) English | Español
Wrapping Up

Final Report Online Submissions: 
Submit Your Final Report Using Go Gold
Girls must submit their final reports by March 1 to participate in that year's Annual Recognition ceremony in April. The absolute deadline to submit a final report for committee approval is August 1 of the year a girl graduates from high school. Girls leaving grade 12 officially bridge to adults on Oct. 1 and are no longer eligible to earn the Gold Award.
We want to celebrate your achievement! Please provide the requested items for the annual report and slideshow to mdpalacios@gsgst.org

Headshot

Project Description 

Action shot of you working on your project

 Questions? Contact Melissa Palacios at mdpalacios@gsgst.org or (361) 883-3611.