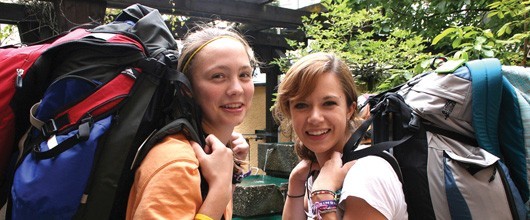 Travel
Girl Scouts love to travel—from the field trips they take as Brownies to the global adventures they go on as teens. If you love exploring different places and cultures, then Girl Scouts is the place for you.

Check out Girl Scout Destinations, the ultimate adventure program for girls ages 11 and older. With a ton of different trips to apply for every year—from surfing camp on the east coast and breathtaking hikes out west, to the crazy-cool wonder of new cultures abroad—there's something amazing for everyone to experience.
Make friends from all over the country as you travel with Girl Scouts from different states, see and learn new things, and pack your bags full of inspiring, life-changing experiences and memories. Find your trip today!
For more questions on Destination opportunities or to submit your application please contact:
Melanie Holland
Email mholland@gsgst.org
Add Subject line to read: "ATTN: Melanie Holland- Destinations"
Every girl deserves a chance to see the world! Girl Scouts offers many different travel opportunities so girls can see new places, meet new people, and learn about different cultures and ideas. Whether exploring their own neighborhoods, going on overnight trips, participating in council-sponsored trips, flying to one of the four world centers, or going on a Girl Scout Destination, Girl Scouts are continually expanding their horizons.
Do you have an interest in travel? Whether you have little travel experience or a lot, a new adventure is waiting for you. Click the button below to check out upcoming trips and get started on planning your next adventure with Girl Scouts!