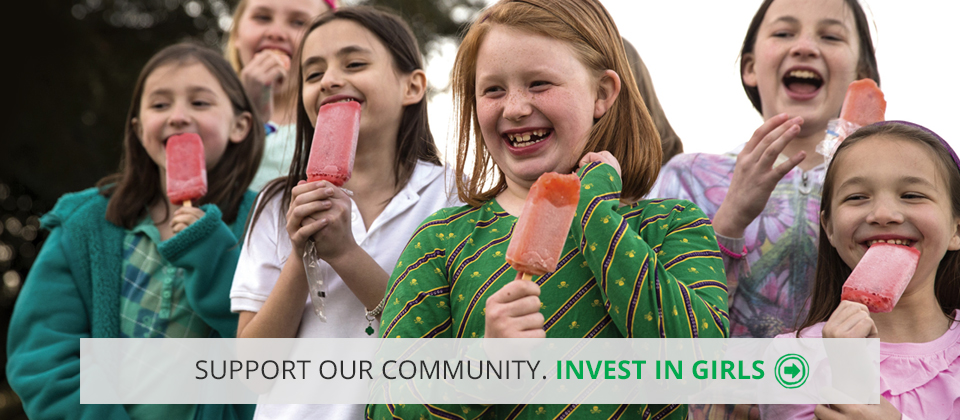 Invest in Girls
Girl Scouts Outreach Program: Because Every Girl Deserves to Shine
It all began over 100 years ago with one woman, Juliette Gordon "Daisy" Low, who believed in the power of every girl. Today, we continue to bring her vision to life by working tirelessly to build girls of courage, confidence, and character who make the world a better place, for all of us. At Girl Scouts, we empower girls (all girls!) to discover their inner WOW—the unique passions, talents and strengths—that make every girl so special.

Currently, Girl Scouting in our outreach program reaches over 9,000 girls— whom are from low-income homes. We believe every girl should have the opportunity to be a leader in her community. That's why our outreach programs are conducted during school hours, and provide a challenging and exciting (we can never forget the FUN!) leadership development program at no cost to low-income girls and their families.

Through this program, girls learn a ton of important new skills that will help them be successful in so many areas of their lives like science and technology, healthy living, first aid, and money management just to name a few. Our outreach program also helps girls grow in self-esteem, confidence, and leadership potential—all of which help them shine bright both inside and outside of the classroom.
We are inspired and energized by every girl we reach in our outreach programs, but we realize there is still much work to do. 
Much of our successful outreach is generously supported by corporations and foundations. Contact us today to learn how your company or foundation can help build girls of courage, confidence and character, who make the world a better place.

Fund Development
Chief Development Officer
Veronica Garcia
956-425-2388
vgarcia@gsgst.org
Director of Fund Development/Corpus Christi Service Area Director
Eric Morales
361-883-3611
emorales@gsgst.org
___________________________________________________________