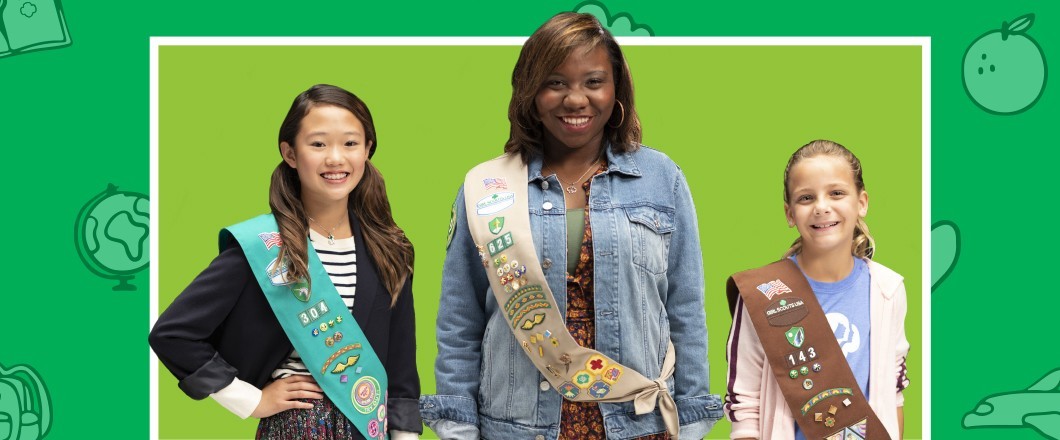 Juliettes
Juliette Girl Scouts are registered girl members in grades K-12, who are not affiliated with a troop and complete Girl Scout activities with the guidance of an adult mentor. They participate in a way that fits their schedule, attending events and participating in activities that meet their needs and interests.
What Can a Juliette Do?
Complete Journeys + Badges
Journeys guide girls towards becoming a leader in their community. Juliettes can also earn badges, which include a variety of skill-building activities.
Attend Events & Activities
Attending council-hosted events and service opportunities are a great way for Juliettes to meet other Girl Scouts in their area.

Community Service
Juliettes can work on their own or with other Girl Scouts to give back. They can also pass along what they've learned, gain leadership skills, and earn special mentoring awards by helping younger Girl Scouts at troop meetings, events, camp, and more.
Participate in the Girl Scout Cookie Program
Juliettes can fund their Girl Scout activities while learning great business skills including goal setting, decision making, money management, people skills, and business ethics.
Earn Higher Awards
The Gold, Silver, and Bronze Awards are the highest awards in Girl Scouting. Juliettes can earn these awards by leading a take-action project to improve their local community.
Travel with Girl Scout Destinations (ages 11-17)
Juliettes can experience leadership opportunities and cross-cultural understanding through regional, national, and international travel.